Oman tourist visa india introduces helpline toll free reduces fee
Indian Government reduced Oman tourist visa fee and also introduced toll free helpline number to increase tourism here. Try for Oman visit visa today dialling 1800111363 number.
In order to cater to the needs and requirements of foreign tourists to Oman, the Government of India has introduced a 24 Hours 7 days toll-free helpline for tourists. It is available in several languages. There is more good news with the reduction of visa fee beginning from April 1, 2017. The languages provided for Oman tourist visa toll free number are Russian, Arabic, German, French, Japanese, Chinese, Italian, Korean, Spanish and Portuguese.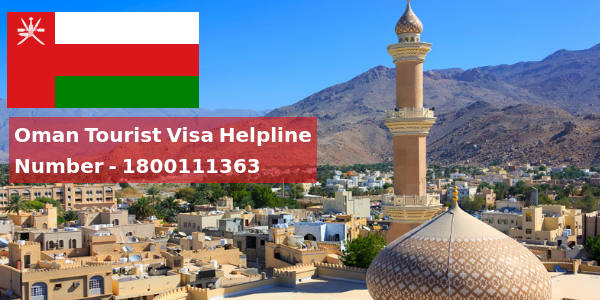 Oman tourist visa Fee and helpline number
The service can be availed at 1800111363 number or also on code 1363. There is a reduction in the medical-visa fee to Rial Omani 30.9 to improve the medical tourism and it is valid up to six months. For the one year period Rial Omani 46.3 has to be paid. The Business visa fee which is valid up to a year can be had at Rial Omani 46.3. The Business persons traveling to India, many times at a limited notice period, have also been attended and they are required to pay RO 96.3 for five year visa.
Government took measures to revise the fee on Oman tourist visa which is now Rial Omani 38.6 (valid for a year) and Rial Omani 77.1 (valid for five years). Fee for the Entry visa for trainees or other purposes will now cost Rial Omani 30.9 and will be valid for six months. It is Rial Omani 46.3 for validity from 6 - 12 months. Oman entry visa for 1 to 5 years will now cost 77.1 RO.
Revision in the visa fees does not include Rial Omani 1.2, ICWF and processing charges of visa application of Rial Omani 1.650 levied so far. They will be valid from September 1. Government of India has also gone for the modification of present e-Tourist visa scheme. There is a provision to issue e-Visas for the purposes of visit like e-Tourist Visa, e-Medical Visa and e-Business Visa.
Posted On : 06 September,2017