India grants multiple entry visa to israel survivor moshe
Rabbi Shimon Rosenberg, the grandfather of Moshe, the Israeli survivor of 2008 Mumbai Lashkar-e-Taiba terror attacks, today confirmed, that a 10-year multiple-entry visa, has been issued to help them in traveling to India. This was based on their pleasure, making good the promise of PM Modi. Moshe Holtzberg is now 11 years old. He had expressed a desire to visit Mumbai to live and work as a Chabad emissary, when a meeting was held, with Indian PM, on July 5.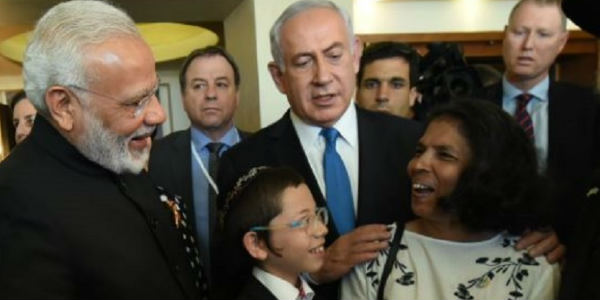 He was excited on receiving this present, which would help him when he grows up, he said. Moshe also said that he wanted to be the Director of Chabad House in India. Moshe was reading from a prepared script and reflected his love for PM and for the people in India.
PM Modi had invited him to come and stay in India and had extended a warm welcome to him. He assured him and the family members that long-term visas will be issued to them. They can arrive at any time and visit any place. Moshe's grandfather said that the issue of long-term visas was a great honor, and had no words to describe the nicest feeling. He was glad that the Indian PM had followed up on the promise he had made. Being thrilled, he expressed his love for India and was looking forward to visiting it at an early date.
PM of Israel had invited Moshe to join him in his India schedule. Rosenberg had hoped to celebrate Moshe's 'bar mitzvah', ceremony done at the age of 13 years, in Mumbai. He hoped to invite PM for it. The parents of Moshe Rabbi Gavriel and Rivka Holtzberg and six others were killed at the Chabad (Nariman House). It was attacked in November 2008 by the terrorists. At that time, he was a two-year-old lad, who was saved by Sandra Samuels, his Indian nanny. Samuels is presently an Israel resident and has been felicitated as an honorary citizen, by the Government of Israel. This has helped her to accompany Moshe and live with him there.
Posted On : 01 September,2017